Many seniors around the world are turning to ballroom dancing nowadays. People are inspired by the shows like Dancing with the Stars with celebrities dancing in beautiful costumes, doing foxtrot, cha-cha, salsa, tango and other dances,.
As a ballroom dress designer, I am fascinated by the senior dancers. I have a few clients who in their eighties are actively participating in ballroom dancing competitions, travelling across the country, taking private dancing lessons from the world champions, winning prizes and changing dresses every half a year. I admire their drive and enthusiasm and I always feel flattered when they come back to me for another competition gown.
While talking to my clients they often complain that they find it difficult getting a dress that would be suitable for their age. The biggest challenge is to choose a gown that would be sophisticated, elegant, not too matronly, sexy yet not over the top.
In this article I would like to discuss how a senior dancer can handle these and other challenges and maybe provide some ideas and insights for their next competition dress.
Sexy yet not revealing
The challenge of a senior dancer is to have a costume which would cover the problematic areas, making the costume comfortable to wear yet not make it look too boring.
One of the common mistakes I regularly see on the dance floor is a conservative, long sleeve dress that would be made entirely out of solid/non see through materials.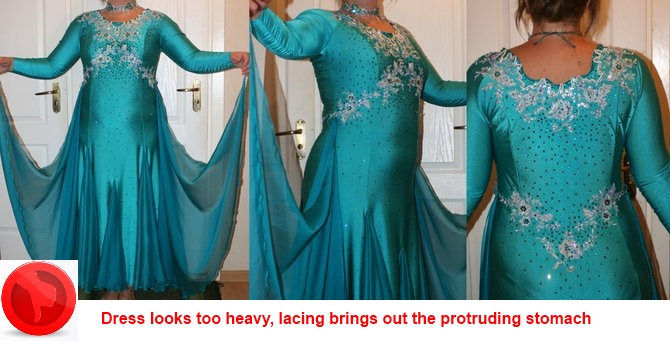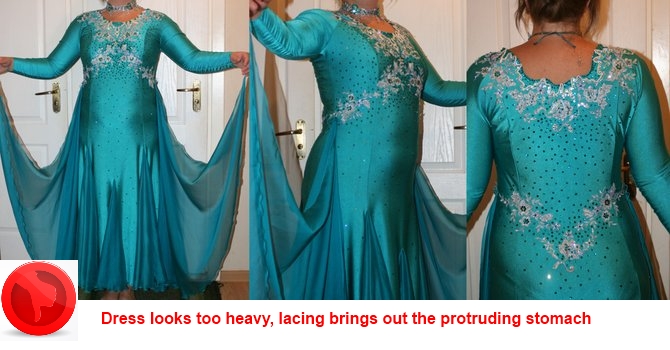 Unless such dress has a very interesting draping or decoration – it will look very dull and too commonplace. Yet we need to make a different impression.
One way to change the impression is to combine two colors in one dress, making various patterns. Two colors will break the image of one solid dress, will help shape the silhouette the way we need it.
Another option is to combine see through and solid materials creating a lighter impression of the dress.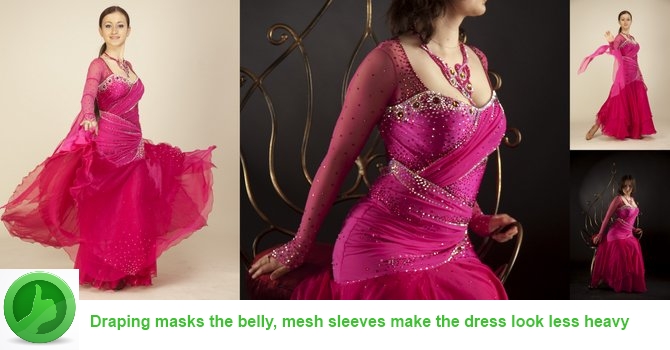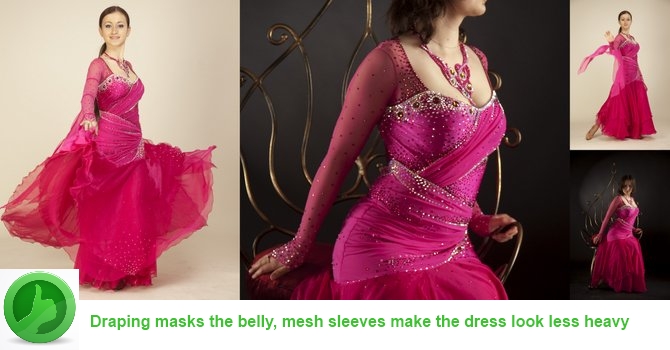 Choosing Dress Color
Another common mistake a senior dancer tends to make is going after dim, dark colors. Especially if there are any concerns about the body. Many prefer black. Yet this is not always the best choice.
As I pointed out in my previous articles about ballroom dancing fashion black is traditionally considered a safe-choice but it should actually be considered the last option for the dance competition.
Choosing bright, intense colors – like Emerald, Royal blue, Deep Burgundy would be a safe alternative to black. A smartly designed dress would shape the body silhouette in a way to mask the problematic areas, by use of laces or appliques.
I also love pastel colors on senior dancers a lot. The soft, silvery tone of natural grey hair color matches well with clean pastel colors and it looks amazingly tender on a dance floor.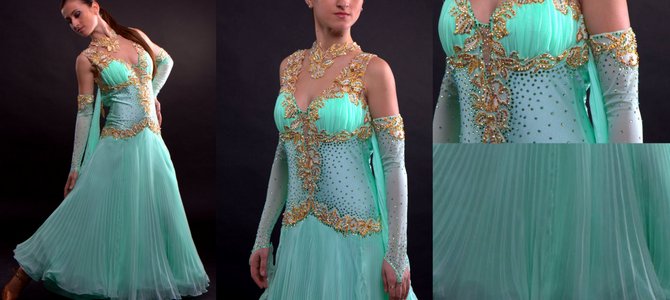 Bra situation
Mature dancers need a good support for their bust. This problem is also common for younger dancers who have a large bust. When choosing a dress, make sure to choose one with wide nude straps on both of the shoulders and across the back. Stay away from thin straps that tend to dig into your shoulders. If your cup size is D+ consider having an extra strap across the back for better support.
It is ok to have nude straps showing in a ballroom dress, however some of the dancers do not like it. In that case you may choose a dress with nude/colored mesh sleeves. The back straps are a bit more difficult to hide. You may choose a higher cut, or use some complicated cuts that would hide the diagonal straps altogether (see the picture). I personally do not see anything drastic about leaving it open, though.
Dancing posture:
Many of the senior dancing couples have a slightly slouched posture, so I would advise against using massive accessories or flounces that accentuate the area. The best option – thin layer of mesh decorated with spread rhinestones – no evidenced seam going through the area. Also creating a dress with a horizontal pattern going across the back would also drive attention away from the slouchiness.
Hip action.
As I already pointed out in my previous articles about ballroom dancing fashion, there's nothing better than fringe to accentuate the hip action. For additional advice – please check my article on How to choose a dress that helps you dance better
Fabric choice
If you have any problematic areas around the waist region, any creases on the back, stay away from thin very stretchy materials like dance crepe or angelskin or mesh used for the bodice. Best choice would be going after thick lycra/biflex, or even stretchy velvet – fabrics that would provide good tight hug on the bodice. Another alternative is to make very very thin draping on the bodice, using mesh or angelskin, like the fuchsia dress on the pictures above.
In conclusion
One of the most important things is to feel comfortable on the dance floor. So make no compromises here. It is important for the dress to have a good fit, and the color that would compliment you. Good luck on the dancefloor!
I hope this article was helpful. If you have any questions or would like to discuss it, feel free to contact me at [email protected] I'd be glad to hear from you!
Please do not copy this article without my authorization. Email me if you'd like to publish it somewhere else.