Learn what fabrics and decorations are used in latin dancewear, see some popular latin designs and a selection of new sketches by Ballroom Sparkle studio.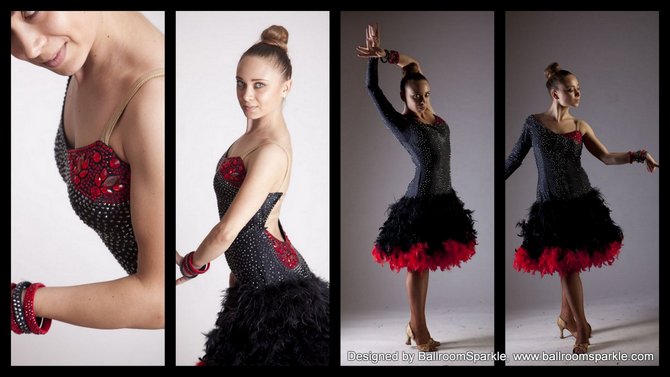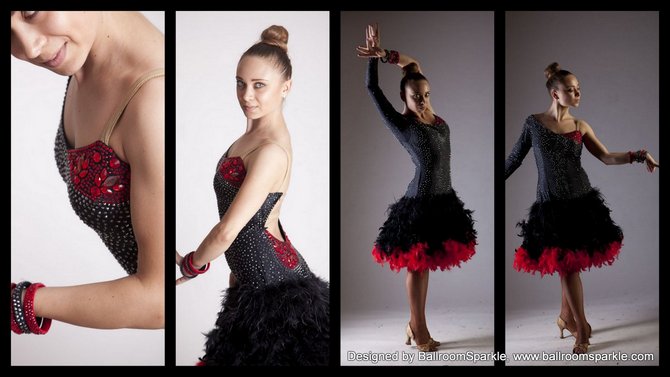 It might be quite hard to pick Latin dress for competition. On one hand there is a variety of styles, fabrics and decorations to choose from. On the other you need a dress to suit all 5 dances, which are completely different in mood, style and pace. A red and black Latin dress will look very expressive during the passionate paso doble or tango, however it will be somewhat out of place during the jive or joyful samba.
Apart from the differences in dance styles there are also other things to be considered when looking for the Latin costumes. These are the particularities of the body type of each dancer, their dancing level and choreography. Each dancer has to approach very carefully his/her strong and weak sides to look for the costumes that would emphasize individual style of the dance couple. It is wise to consult with the coach or a ballroom and Latin dress designer for a professional and unbiased opinion.
During the Latin dance competition the couple only has a few minutes to impress the judges and the audience, therefore the Latin competition costume should be very creative, just as their dancing routine. Ballroom dress designers are constantly experimenting with different fabrics, colors and patterns, looking for new styles that could stand out on the dance floor.
Fringe Latin dresses
Fringe is one of the most popular decorations used in Latin dancewear. It greatly emphasizes the movements of the dancer. It doesn't require much stoning to look good. It can be attached in very different ways to the dress, therefore it suits almost any body type. For a short girl with a curvy body I would recommend to avoid Latin dresses where the fringe is sewn horizontally and very densely. It will add more volume to the body and visually shorten it. Rather opt for a Latin dress where the fringe is sewn in small tassels and attached in small portions on the hips and bust.
Another good idea is to consider a Latin dress decorated with beaded fringe sewn in individually. It would emphasize the movements of the dancer while not putting up weight.
Latin dresses made with beaded bugle fringe sparkle immensely, quite similar to those decorated to rhinestones. One of the recently introduced materials is fringe made of sequins; it is much lighter and just as sparkling.
Draped Latin dresses
Drapes and floats come many shapes and forms so it would be a very generalized description of Latin dance dresses. For most part such dresses require very soft stretchy materials such as mesh, angelskin or thin stretchy satin to make the drapes and floats hug the body in a natural looking way. Making draped dress is a non trivial task, however the outcome will pay itself out. A well made draped dress always looks very high class and expensive, even being only moderately decorated.
Patterned Latin dancewear
Animal, floral or abstract prints – all these patterns always look very fresh on the dance floor as opposed to dresses in solid colors and are very likely to attract the attention of the audience.
Tiger or leopard print Latin dresses will never go out of style. Such Latin costumes look hot and daring and represent a great choice for a bold, confident dancer. Animal print dresses are often combined with red decoration or trimmings, to create an image of a wounded animal or with golden accessories for a more glamorous look.
Empire waist Latin ballroom dresses
One of the recent trends in ballroom Latin fashion, empire waist dress. A great choice for petite ladies as it visually elongates the body and makes the girl look taller. This is however quite a tricky style that wouldn't suit any dancer. First of all dancers with shapely legs and large hips should by all means avoid such style. Empire waist Latin dresses also require the dancers hip technique to be just perfect so that the dancing moves could be easily seen through the loose layers of fabric.
Beads and penny sequins Latin dresses
Latin dresses decorated with large penny sequins or made out a sequined fabric have become very popular recently. Such Latin dress styles require little stoning and sparkle great on the dance floor.
The perfect little black Latin dress
Among the abundance of colors, textures and patterns present on the dance floor a black Latin dress may unexpectedly look very refreshing. Black dress is classy, elegant and sexy – a great choice for any lady.
Fur and Feathers
Once extensively used in standard gowns, feathers were left out for a while and came back in Latin dancewear. Designers use both boa and individual feathers to decorate the Latin dresses. Latin costumes adorned with feathers looks very chic and classy though adding some extra headache to its owner when it comes to cleaning the dress.
To be continued…
Would you like to see more of Latin Dresses?