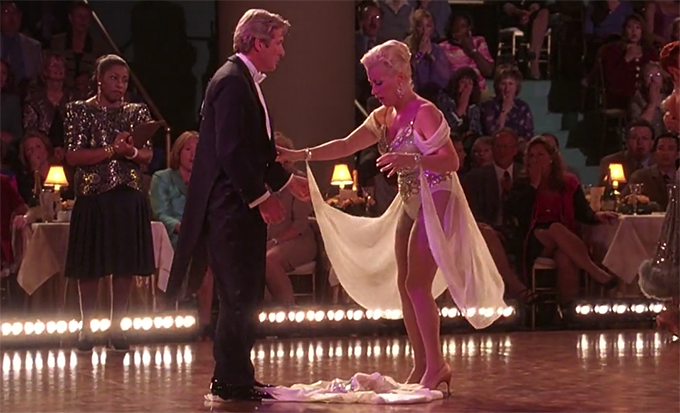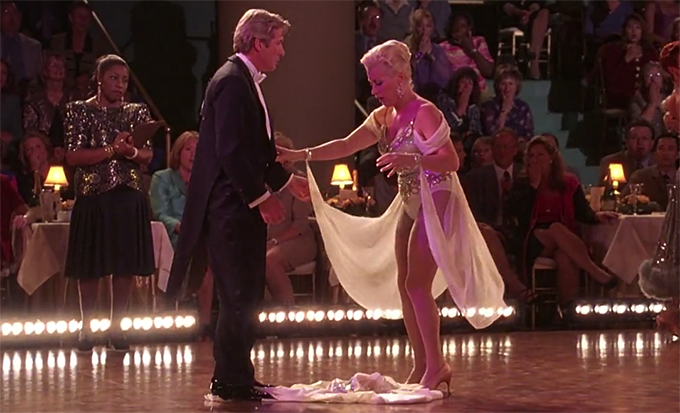 I think every dancer has had one or two of these during her dancing career, right? I remember mine very well, and it was particularly embarrassing because it happened during one of my first competitions. My partner stepped on my skirt during the bow. And no, the skirt didn't just graciously fall off like that of Richard Gere's partner in the movie, Shall we Dance. There was a huge rip across the hip seam— quite a visible one. The worst thing was that we had one more dance to do and no time to change. I still remember those muffled chuckles in the audience…. Sigh 🙁
My current dress-designer experience tells me that even though there is no 100% foolproof solution, there are still ways to minimize the risk of damaging the costume. There are a few risk-prone zones to be treated with extra care, as they tend to bring us most of the trouble. So for the start what you should do is to
Secure your bra cups and neckline:
Use strong bra cup support to avoid nip-slips. The bare minimum is two shoulder straps and at least one strap across the back. If you have a plunging neckline, don't be greedy— you need extra support there, too. The more open your costume is, the less support it provides, so add nude straps or nude mesh inserts in high-risk places. If the top is made out of thin, stretchy material— like mesh or stretchy lace— make sure to add nude shoulder straps that will support some of the skirt's weight and secure the bra cups safely in place.
Take a closer look at the bottom of your skirt:
Situations when your partner steps on the bottom of the skirt or your heels catch the fringe on the skirt are quite common. Some risk will always exist with long skirts, and there are dancers who prefer shorter skirts in order to avoid the possibility completely. If you have a fringe skirt, make sure there are no fringe loops or knots at the bottom of the skirt. For long, smooth/standard skirts, be cautious with full skirts that have a lot of ruffles— it's easy to get your heels entangled in them.
Watch out for accessories on the loose:
Any dangling decorations in which your partner can get caught: These include back straps (dangling, not fitted), various bodice decorations (such as lace or vines that are not sewn flat onto the dress), loose hair, and hair accessories. If you're not sure about them— get rid of them.
Test your closures and snaps:
Make sure they are very durable if located in places that undergo a lot of action. If this is a Latin dress, do not place the strap closures in the middle of the back; they can open up when you actively bend your spine. Better to place them under the armpit, which is safer.
And finally…Be prepared for the worst
Of course you cannot foresee everything, so it would still be a good idea to have a dress first-aid kit with you in case a disaster happens, anyway:
A set of safety pins, needle, and thread
A couple extra pairs of bra straps
Body adhesive and a hot glue gun for quick costume fixes
Double-sided tape
A bottle of anti-static
Quick stain-remover
I would also recommend taking your training dress to the competition with you. It usually doesn't take up that much space, but it might turn into a life-saver if for some reason the competition dress is damaged and you cannot dance in it.
And one final advice which should become your rule of thumb — get your dress early, and test it thoroughly. Move around when trying the dress on for the first time. Raise the arms up and down, jump up and down, raise your legs, twirl— all that helps to determine potential weak spots for your particular choreography. Three or four rehearsals before the big date should also become a golden rule— it's easier to adjust one or two snaps before, than to deal with a bra gone south on the dance floor later.
In conclusion
Ballroom Dancing is a very active sport so there are bound to be cases when your dress gets in trouble. All the suggestions above might help tackle a few of the potential problems, but not all of them. But do not despair!. You still have your gorgeous smile and your sense of humor that would help turn the costume disaster into a beautiful staged act!
I hope this article was helpful. If you have any questions or would like to discuss it, feel free to Email me I'd be glad to hear your thoughts and ideas on this!
Are you interested in having a custom dress designed for you? Visit our custom design page for more information on how it works.
Befriend us on our Facebook page – we post a lot of useful information there too!
Please do not copy this article without my authorization. Email me if you'd like to publish it somewhere else.